La Loupiote* was born on a cold winter night. A waning crescent moon barely lit the evening sky. On that night, some fairies left the newborn in her human parents' arms and both understood that their daughter was not going to be like anyone else. From an early age, she spoke to the trees, observed worlds in a flower field and she wrote stories from forgotten places. At night, she could see scary shadows in the dark and she needed her night-light very much.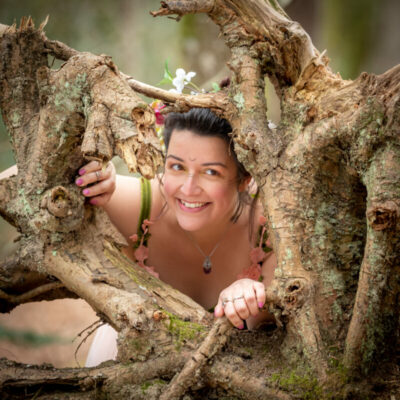 Her inspiration always came from the Other World, from those invisible universes that the humans of today do not want to see. So year after year, La Loupiote studied, got information, read, drew, wrote to understand where this inside feeling that always brought her back to the door of fairy came from.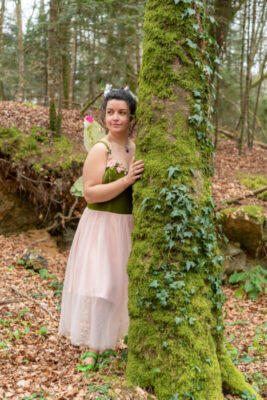 Then, on a bright spring day, her questions were finally answered. As she was strolling in the woods, she noticed some twinkling light among the leaves. On the tree, there was a beehive adorned with flowers and it had the smell of honey. Yet, the bees were not working alone that day. La Loupiote was amazed to see gracious tiny winged creatures coming and going to help the black and yellow worker bees which had their backs sprinkled with golden pollen. "Fairies are real" she said to herself.
With great discretion, La Loupiote went back to the human world. This vision inspired her first creation – a beautiful beehive decorated with flowers. Since then, she has made her small night-lights after the houses and fairy doors she saw during her strolls. Beyond sharing these wonderful memories to the world of men and women, she remembers how scared of the dark she was as a child. So, her magical houses light can be lit up to soothe all the fairy, human, wizard or even elf children…who wish to shine a light and add a touch of dream in their life.